Message from the Project Manager (PM)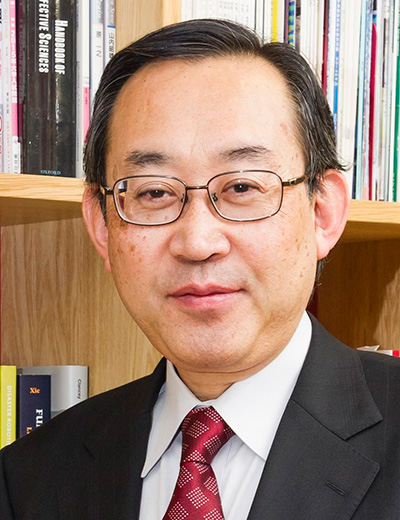 SUGANO Shigeki
Professor, Faculty of Science and Engineering, Waseda University
Declining birthrates and aging population, coupled with labor shortages in the medical and nursing care fields are driving the demand for robots that can support humans by acting alongside individual people and performing a wide variety of tasks.
In reality, while modern robots are good at performing certain functions, they lack the ability to perform multiple tasks. Furthermore, robots have yet to achieve both the softness, sensitivity and power suitable for contact with humans. On the other hand, even though artificial intelligence (AI) is beginning to demonstrate its power in data processing in cyberspace such as images and languages, there remains significant issues on how the data is related to the real world. Furthermore, the social acceptability of smart robots from the viewpoint of ELSI (ethical, legal, and social issue) and international perspectives must be taken into consideration when exploring the ideal form of symbiosis between robots and humans.
Against this background, experts from robotics, AI and social implementation have gathered to collaborate in research and development, with the goal of realizing smart robots that can autonomously perform customer service, housework, nursing care, medical care, and medical treatment, or "AIREC (AI-driven Robot for Embrace and Care)," by 2050. To this end, we are building a robust R&D structure with the cooperation of partner organizations from both academia and industry, domestic as well as overseas.
The purpose of this project is to provide more than just a robot demonstration but to become a major driving force for such robots to be implemented in society. We look forward to your warm guidance and support.
What is AIREC ?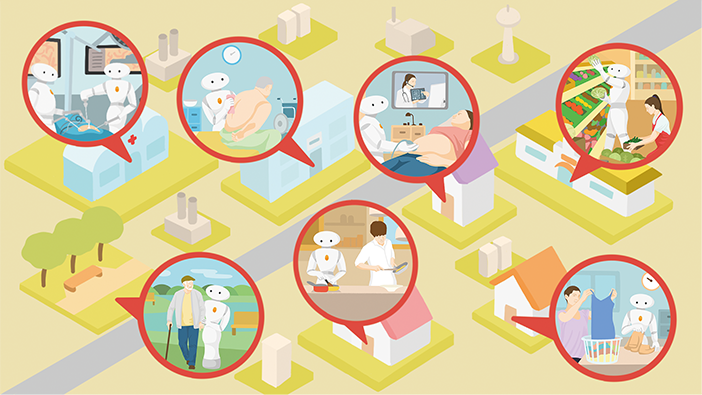 "AIREC (AI-driven Robot for Embrace and Care)" is a general-purpose smart robot that can learn a variety of complex, high-difficulty tasks and perform them autonomously in areas such as customer service and housework, as well as in the welfare and medical fields. The goal is to develop a robot that can attend to customers, perform housework such as cooking, laundry and cleaning, provide long-term care such as transferring, bathing and feeding patients, perform nursing tasks such as explaining examination procedures and replacing IVs, as well as provide medical examination and treatment support such as automatic tests and operation assistance.
The project will develop the following technologies:
1) Soft robotics that combines flexible machine hardware and AI innovation for advanced environment adaptability
2) Physical intelligence and mutually induced communication intelligence that can respond flexibly to and interact with real space, including humans. At the same time, we will fully examine their social receptivity and engage in activities that will help these technologies to permeate society.
About the logo mark
The logo mark consists of two elements, a symbol and a logotype.
The feelings put into the symbol.
A major feature of AIREC, a smart robot that gently wraps around each person for their lifetime, is their "hands." The symbol expresses the gentleness of wrapping with both hands and the softness of the robot.
The symbol is based on pastel colors that give a soft and gentle impression, and has a calm color scheme using traditional Japanese colors.
By using gradation, the symbol has a feeling that corresponds to a wide variety of situations and people.
About logotype
The logotype is designed with "readability" and "kindness" in mind.
The typeface of the logotype has a slightly thicker weight and a rounded body that expresses the gentleness of wrapping and the softness of the robot and is stylishly summarized.